Marriage Counselling and Couples Therapy

Even the most compatible and loving couples may have rough periods.
It is not uncommon for a couple to disagree on an important decision, causing conflicts that may lead to disagreements, broken communication and/or dissolve the unity of the relationship.  Marriage Counselling and Couples Therapy can help bridge the gap and restore balance in a relationship.
There are many reasons why this situation might arise, including, partners not being honest with each other (which may include infidelity), lack of communication, or maybe one (or both) partners have changed their views on one another.
If couples can openly talk and listen about the issues and concerns with an open mind, many of these situations can be resolved through marriage counselling and couples therapy.
Approach to marriage counselling and couples therapy varies depending on the situation but may include joint counselling sessions with both partners present complemented with individual sessions for each partner.
Typical issues where marriage counselling and couples therapy can help include:
Communications issues
Divorce and separation
Divorce and co-parenting
Extended family issues
Falling out of love
Infidelity and flirting with others
Intimacy issues
Financial related issues
Marriage counselling
Pre-marital issues
Relationship counselling
Sexuality issues
The primary aim of couples therapy at Think Psychological Services is to improve communication and listening skills between the couple.
Contact us today for help with marriage counselling and couples therapy: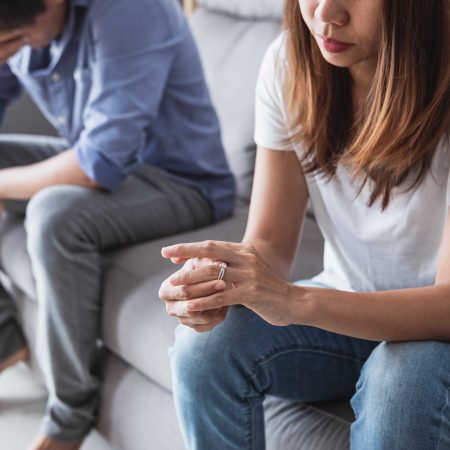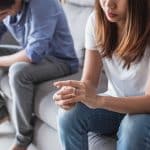 What is a Marriage Counsellor?
A marriage counselor in Singapore is a professional who specializes in providing counseling services to couples who are experiencing challenges in their relationship or marriage. These challenges can range from communication difficulties and disagreements to infidelity, financial stress, and parenting issues.
Marriage counselors in Singapore are typically trained in counseling and psychotherapy and may have additional training or experience in working with couples specifically. They may also use various therapeutic approaches, such as cognitive-behavioral therapy, emotion-focused therapy, or Gottman Method Couples Therapy, to help couples identify and address their issues.
Marriage counseling in Singapore is often conducted in private counseling sessions, although some counselors may also offer group counseling or workshops for couples. The aim of marriage counseling is to help couples improve their communication, strengthen their emotional connection, and develop skills to navigate challenges and conflicts in a healthy way.
What is the difference in marriage counselling and couples therapy?
In Singapore, the terms "marriage counseling" and "couples therapy" are often used interchangeably, but there are some differences between the two.
Marriage counseling typically focuses on resolving specific issues or challenges within a marriage. The goal is to help couples identify and address the underlying causes of their problems, develop effective communication skills, and work on building a stronger, more fulfilling relationship. Marriage counseling tends to be more solution-focused and shorter in duration.
On the other hand, couples therapy is a more comprehensive form of therapy that can address a wider range of issues beyond just the marriage. Couples therapy may include individual therapy for one or both partners, as well as other forms of therapy such as family therapy or group therapy. Couples therapy is often more long-term and may focus on deeper issues such as individual traumas or unresolved conflicts from the past.
Both marriage counseling and couples therapy can be beneficial for couples in Singapore, and the approach that is most appropriate will depend on the specific needs and goals of the couple. It's important for couples to choose a counselor or therapist who has experience working with couples and who uses evidence-based approaches to help them achieve their goals.
How to find the best marriage counsellor in Singapore?
Finding the best marriage counselor in Singapore can be an important step in improving your relationship or marriage. Here are some tips to help you find a counselor who is a good fit for you and your partner:
Ask for referrals: Reach out to friends, family members, or colleagues who have gone through marriage counseling or couples therapy and ask for their recommendations. You can also ask your family doctor or healthcare provider for referrals.
Do your research: Look for counselors or therapists online and read reviews and ratings from previous clients. Look for someone who specializes in working with couples and has experience dealing with the specific issues you are facing.
Check their credentials: Ensure that the counselor is licensed and accredited by the relevant regulatory bodies in Singapore. You can check with the Singapore Association for Counselling (SAC) for a list of licensed counselors or Singapore Psychological Society for a list of psychologists.
Check their approach: Different counselors may use different therapeutic approaches, so make sure to find out what approach the counselor uses and whether it aligns with your goals and values. You may also want to ask about their success rates with couples in similar situations to yours.
Schedule an initial consultation: Once you've found a few potential counselors, schedule an initial consultation with them. This can be an opportunity to ask questions and get a sense of their approach and whether you feel comfortable working with them.
Remember that finding the right marriage counselor or couple therapist may take some time and effort, but it's important to choose someone who can provide the support and guidance you need to improve your relationship or marriage.